PCWI Compact High Voltage Direct Current DC Holiday Detector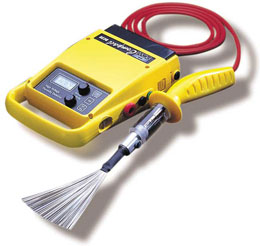 2 Models: DC15 & DC30
Measuring Ranges:
Model DC15: 0 to 15,000 Volts
Model DC30: 0 to 30,000 Volts
Resolution:
Model DC15: 10 Volts
Model DC30: 10 Volts
The PCWI Compact Holiday Detector is a High Voltage DC Porosity detector also known as holiday detectors, spark testers, porosimeters or jeepers. These are used to ensure the longevity of coating systems by locating pin holes, air bubbles, and porosity in non-conductive coatings on conductive substrates, including concrete.
Conforms to: ASTM G62-2007, NACE RP0274-2004, NACE SP0490-2007, NACE SP0188-2006, ASTM D4787-2008 ANSI/AWWA C214-2007, ANSI/AWWA C213-2007, ISO 2746:1998 & AS3894.1-2002
Features
Light weight ABS case
Momentary on-switch allows for automatic shut-off
Digital display of applied voltage with integral battery condition indicator
Voltage ranges of 0 to 15kV or 0 to 30kV, fully adjustable
Regulated DC voltage
Clip-on battery pack
Constant test current
Sensitivity control
Overcharge protection
Single power supply
Earphones for noisy environments
The DC15 and the DC 30 holiday detectors are available in industrial and pipeline kits
Optional on/off switch in handle
Applications
Used for detection of coating porosity (pinholes or holidays) in dielectric (insulation type) coatings on conductive substrates, including concrete.

Suitable for production pipeline coating operations, tankwork and structures. Ideal for use on storage tanks, valves and pipelines.